Introduction
Woodcutting is a skill used to chop logs from trees. These logs may be used for firemaking, fletching, or possibly construction. Simply click on a tree to chop it down. However, you will need to have the necessary hatchet in your inventory and a minimum woodcutting level.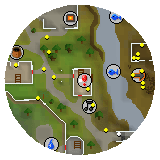 If you are just starting out in Woodcutting you may want to pay a visit to Roddeck the Advisor in the building just east of the Lumbridge General Store to learn about the different kinds of trees and hatchets. You can get a free Bronze Hatchet from Bob's Brilliant Axes and a free tinderbox from the Lumbridge General Store.
Tools
Hatchets
Hatchets are the primary tool for woodcutting. The better your hatchet, the higher your chance of getting logs from the tree.
* Note: When cutting with the Inferno Adze some logs will be burned. You will still receive the woodcutting experience along with firemaking experience. You will not receive the logs.
--------------------------------------------------------------------------------
Machetes (members only)
Machetes are members items and can only to be used on Karamja for cutting through jungle vegetation. They are mainly used for the Tai Bwo Wannai Clean Up mini game, but one is needed to get into the Kharazi Jungle on Karamja as well.
------------------------------------------------------------------------------------
Trees and Bushes
There are several types of trees all over the RuneScape world, the grey rows in the table below indicate members only varieties.
* The Tai Bwo Wannai Clean Up tree grove costs 100 trading sticks to enter. It contains 4 Mahogany and 9 Teak trees.
** Once you have completed the Royal Trouble quest, these trees are a kingdom resource. You cannot keep any logs you cut and the xp is negligible, but you can choose to collect them from your investment.
Some types can only be reached via a certain quest.
-------------------------------------------------------------------------------
Woodcutting Stumps (members only)
Woodcutting stumps are located in Neitiznot on the Fremennik Isles. They are currently only used to craft and cut arctic pine logs.
* You must have reached a certain point in The Fremennik Isles quest to learn how to make round shields.
1-15 lvl's Chop normal trees anywhere in the world. Look for dense forests as these will be the most efficient locations.
16-30 lvl's Chop Oak trees at: 
Four just East of Draynor bank.
South of Varrock.
Quite a few west of Catherby bank (p2p).
Many just outside Castle Wars (p2p).
31-60 lvl's Willow trees at: 
Six just South-west of Draynor bank.
Four next to the bar in Port Sarim.
Ten South of Rimmington.
North of Seer's bank (p2p).
Eight in front of Barbarian Assault, with a deposit box just inside. (p2p)
61-75 lvl's Maple trees at: 
North of Seers' bank .
A few outside the Legend's Guild.
Multiple North of McGrubor's wood by the railway.
South West of Sinclair's Mansion and on the road to the Fremenik Province from Seers' village (p2p).
75-99 lvl's Yew trees at: 
Three north of Varrock Palace.
Three south of Falador.
Four North of Rimmington. These yews are very close to the POH entrance.
Two South of Edgeville bank.
Four between Draynor and Lumbridge.
Three in the cemetery in Seer's village (p2p).
Seven West of Catherby under the beehives (p2p).
Four south east corner of Gnome Stronghold (p2p).
85-99 lvl's Magic trees at: 
Four South of the Sorceror's tower.
Around the Ranged guild.
Gnome's stronghold.
Just outside Lletya.
Mage Training Arena.
Good luck

Credits
FataL ErroR